Retaining its prosperity throughout Roman and Byzantine times, Thassos was acquired by Genoese Francesco Gattelusio prior to its conquest by the Turks in 1455. Some three centuries later it was given by Sultan Mahmud II to the family of the Egyptian ruler Mehmet Ali, but in 1770-74 the island was occupied by a Russian fleet. By this time the population of Thassos had gravitated to the inland villages as a protective measure. In 1912, Thassos was reunited with Greece.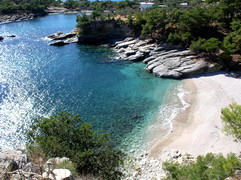 Visitors should make a point of exploring the entire island by following the attractive coastal road, making forays into the interior wherever branch roads make this possible. Travelling south-eastwards from Limenas, a two kilometre drive leads to Makryammos (literally 'long sand') with a sandy beach, hotels and bungalow complexes.
Beyond Makryammos the circuit road takes one of its frequent detours away from the coast to serve the delightful stone roofed village of Panagia set on the eastern side of Mount Ipsario amid forests and springs. Back on the coast road, leads to Skala Panagia (Golden Beach).
The south-eastern section of the island has old marble quarries and at Archangelos nuns cheerfully indicate where St Luke is said to knelt to pray. The road now turns west, past good beaches to Potos, where a branch road leads inland via a beautiful valley to the old mountain capital of Theologos. Here are the ruins of a medieval castle and a house where Mehmet Ali is said to have spent part of his youth.
Beyond Potos is Limenaria, the islands second largest settlement after Limenas. Here the islands circular road begins its return journey to Limenas via the west coast passing the resorts and villages of Maries, Kalirachis, Sotiras, Kazaviti, Prinos, Rachoni, Agios Georgios and Pachis.
Good places to eat:
Captain's Taverna – Skala Potomia
Pelagos Taverna – Skala Potomia
Airion Taverna – Limenas
Takis Taverna – Limenas
Posidona Taverna – Limenas
El Greco – Limenas
Patrikos Taverna – Limenas, near Old harbour
Gekas Taverna – Skala Rachoni
Christos Taverna – Agios Georgios
Drossia Taverna – Rachoni
Boomerang Taverna – Potos
It must be said that in our experience, where ever you go you will be made very welcome and enjoy a good meal. We have not had a bad meal anywhere on Thassos Island.
A favourite trip to Kavala is on a Saturday for the large market. An Aneth or NEK ferry boat will also take you to Kavala from Limenas. They also visit Kavala from Prinos Port although travelling from here takes about one and a half hours. From Limenas it takes about an hour. Both ports are very easy to reach with tickets purchased on the day before the trip.
Island Transportation
Transportation around the island can be sought by the normally regular bus service. They provide transport to inland villages and coastal resorts as well as drops and pick ups during a complete tour of the island. I say normally regular because it is also quite usual for the bus timetable to be ignored, so don't take it too seriously! This is not a problem because one will be along soon!
Taxis of course are available, as is car hire. Many car hire companies are advertised but it is advisable to choose one of the well known companies like Avis for complete peace of mind in the event of an accident.
A trip around the island is about 95 km in length and a very pleasant experience. It can be done in less than 2 hours if stops are limited, but if you allow a day, a drive around the island can be achieved in a relaxing way enjoying many stops along the way for investigating with excellent photo opportunities.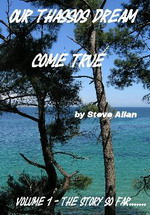 Steve Allan first started visiting Thassos in May 2001 and has never looked back. He tried Rhodes, Athens and Zakynthos and really enjoyed them all, but always kept being drawn back to Thassos. He and his wife Debbie have had a healthy obsession with the island for many years. His book LIVING THE THASSOS DREAM tells the story of the actual account of their journey from the outset, from booking their first holiday abroad and subsequent visits to Thassos. It also describes the purchase of the land and the building of their beautiful dream Olive Tree House and may be essential reading for anyone planning to buy property and move to a Greek Island. To order your copy while stocks last please email Steve at steve@livingthethassosdream.com or allanovich2nd@aol.com and he will get back to you for details as soon as possible.
Accommodation and travel arrangements on Thassos

You can find hotels by location, category, and price with customer reviews and lots of photos by going to Booking.com's Thassos Page or contact Hahathakis Travel in Lesvos