Eating in Santorini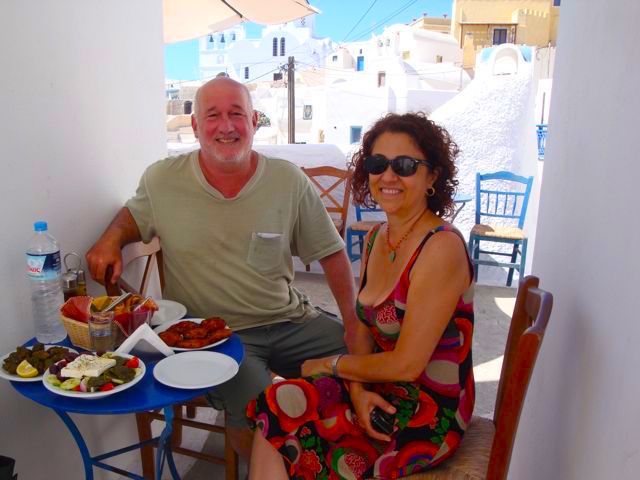 Let's be clear about eating in Santorini. Chances are you will be eating tourist food. Santorini is a tourist island and the restaurants have one purpose and that is to sell food to tourists. Yes there are restaurants that locals eat at but it is unlikely that you will stumble upon them on your own by walking the streets of Oia and Fira. This does not mean that the food is bad because it is made for tourists. On the contrary. Some of the tourist restaurants make very good food and are proud of it and while some may see their restaurants as feeding troughs with cash registers, and tourists as cattle that can be satisfied with mousaka and pastitsio, others see tourists as guests and go out of their way to find the best ingredients to introduce them to the unique cuisine of the island. Santorini is an odd island and its food is a combination of climatic factors and the tastes of those who have occupied and lived here. In Fira and Oia you can find whatever you want and at whatever price you can afford or not afford. For good food at reasonable prices a car is useful. As a rule we try to stay away from places that are overtly commercial and go to the family run fish taverns located near the smaller beaches and communities. There are plenty of places to eat in Fira and Oia but we did not try them, mainly because our visits to the two towns were more like photo-sessions mixed with shopping for the girls.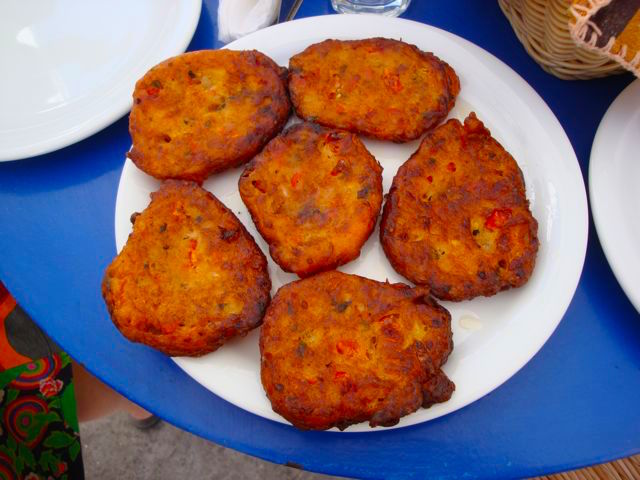 When you are in Santorini there are several things you have to eat because most likely you won't find them anywhere else. Number One are the tomato-keftedes which are deep-fried patties of Santorini tomatoes, onions, flour and whatever ingredient each restaurant puts in that makes their's special. Probably there will be someone in your entourage who will eat these every meal. Also unique to Santorini is their fava which are yellow split-peas, similar to the familiar green split-pea soup but served with onions and olive oil and eaten with bread. The white eggplants are also unique to the island, though of course now you can find them all over the world. There is something called a katsouni which is like a cucumber but has a dryer texture and a different taste. Capers are also grown here as are a round zucchini squash and a small watermelon. But the most important food on the island is the Santorini cherry tomato which because it rains so little (like not at all in the summer) will probably be the most intensely delicious tomato you have ever eaten. When you go to a restaurant insist on Santorini tomatoes. You can recognize them because they are small and ridged. Everything else is pretty much the same as you will find on other islands in the Cyclades and in Athens though some restaurants have a few things they specialize in and it does not hurt to ask your waiter what that is. The best food product in Santorini is the wine and there is no reason to drink anything but Santorini wine unless you are drinking Santorini tsipuro or you don't drink.
Matt's Favorite Santorini Restaurants
Ginger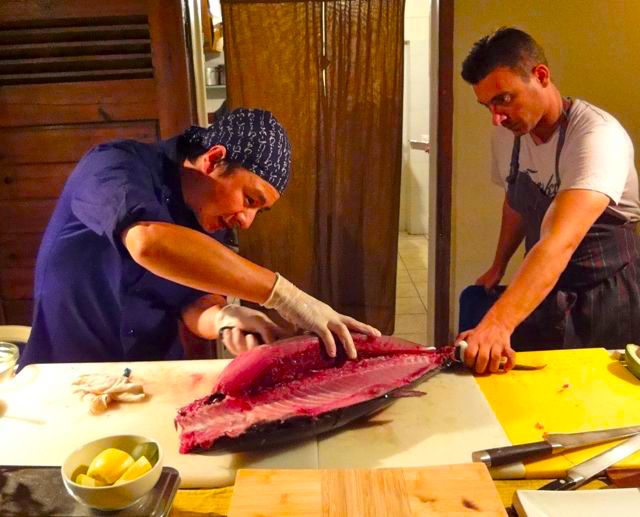 Of course when we arrived we threw Santorini tradition out the window and headed for Ginger, a sushi restaurant owned by Greek -Americans Ted and Dina Stathis. I was told it was the best Sushi in Greece and one reviewer said the best in the world. Greece? Probably. The world? Not likely but if you have eaten nothing but Greek and Turkish food for two months you are willing to believe and accept anything. We called a taxi from the hotel and it took us to the entrance to the village of Firostefani and instantly found the restaurant and were very pleased to see an actual Japanese sushi chef standing behind a real sushi bar, where there were authentic Japanese people watching him. We were four people so we got a table, ordered some local wine and told ourselves we did not care how much it cost, we were going to have a nice sushi dinner with appetisers, miso soup, sashimi and as many rolls as we could fit in our stomachs. The menu is set up with the assumption that there are people in the world who have never eaten sushi, so there are three suggestions of combinations that go together, which we chose one of and then improvised the rest. Half way through the meal Ted, the owner walks in looking like a baseball player in exile, carrying a big tuna he had just bought from a fisherman, which he hands to the sushi chef who expertly begins cutting and slicing. I am pretty certain that was the freshest sushi I have ever eaten. Does that make this the best sushi restaurant in the world? Well I give it points for freshness. I am certain that where I live in central North Carolina I have never had sushi less than a day or two old, no matter how good it tasted, and to be totally honest I think that when I eat sushi the thing I taste mostly is wasabi so I may as well be eating vegetable rolls. But Ginger was good by any standards and the four of us ate for about a hundred euros which is half of what we spend at home. And at the end of the night Ted gave us a ride back to our hotel. Where else but Greece would that happen? By the way Ted is the owner of Blue Lagoon Catamaran Tours and does daily trips around Santorini which includes a gourmet meal, possibly with some sushi involved. Oh, yes, and order the steak cooked on a hot rock. It is so good you will want to eat the rock.
Limanaki, Forum, Delfinia and To Psaraki Psarotavernas (Fish Tavernas)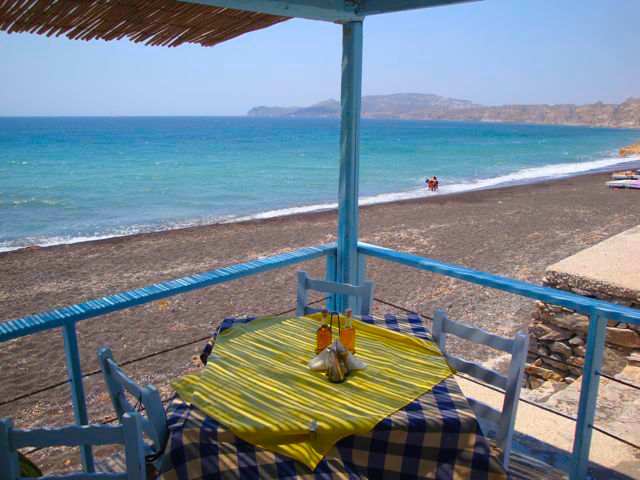 My favorite restaurants when we visited a couple years ago were the Limanaki in Vlihada beach between the new marina and the old tomato-processing factory which serves fresh fish, and the Forum on Perissa Beach which is a restaurant-bar-cultural center that has live music on weekends. We returned to Limanaki by chance this last visit (2012) proving that I don't even read my own website. We just chose the place that was on the sea, had few tourists (it was empty actually) and the owner said he had fresh barbounia and all our Santorini favorites. I was thinking the place seemed familiar and it was not until I came home and read my own website that I realized I had already been to and reviewed the restaurant. Be sure to try the fried tomato balls (tomato-keftedes) and be sure to ask for local tomatoes in your salad. They may be the best tasting you have ever had. The restaurant sits next to an old tomato canning factory and they hold an International Cherry Tomato Conference in Santorini where cherry tomato experts and fans came from all over the world to share stories and secrets and discuss the future of cherry tomatoes. My one complaint about Limanaki is that they snuck some regular tomatoes in our salad along with the Santorini tomatoes. Maybe there is a shortage. It does not matter. Insist on Santorini tomatoes in your salad and accept no substitutes. Let the uninformed tourists eat the imported tomatoes. And ask for capers too. You shouldn't have to but just in case.
If you don't mind being off the beach and above the harbor instead try To Psaraki, also in Vlichada, owned by chefs Chefs Thanasis Sfougaris and Angeliki Synetou who have put together a menu of fresh fish and creative appetisers and is visited by many of the more cosmopolitan locals. If it is windy you are better off here away from the blowing sand.
Below the ancient city, on the beach at Akrotiri is a nice fish taverna called Delfinia where you can sit right on the sea and eat fresh fish. It is reasonably priced and even the locals eat here. Kostas and Fanis, are two brothers who serve the food and also catch the fish which is cooked by their mother Evangelia.
Kyria Niki's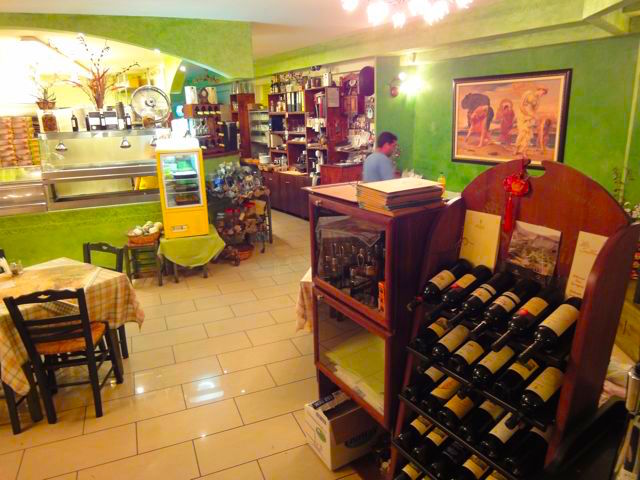 Kyria Niki's is a traditional psistaria (grill house) taverna in an un-romantic setting, not overlooking the volcano, or on a beautiful beach, but on the main road from Fira to the airport among bakeries, shops, light industry and whizzing cars. We drove here at night and were ready to veto the place because of its location but once we went inside we were pleasantly surprised and actually ended up feeling right at home in this environment which was like being in the outskirts of Athens or maybe Lavrion or Keratea. Kyria Niki, the owner chef, has put together a large menu of Santorini specialties for reasonable prices and most of the people here were Greek. In fact I got the feeling that the only tourists here just wandered in because they were lost and hungry and just happened to luck out.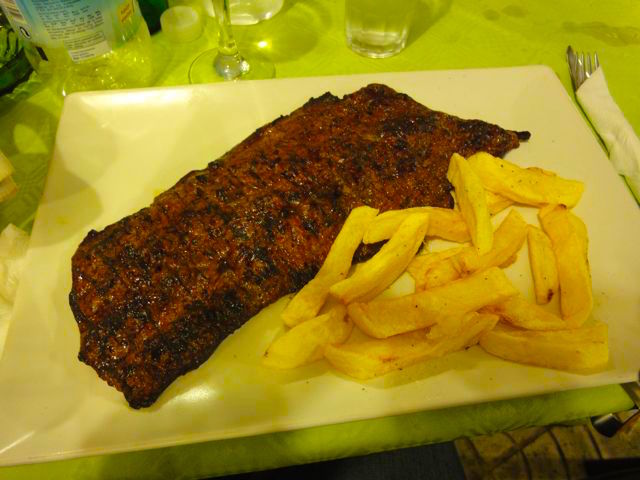 The best thing we had was the grilled eggplant which they treat with great fanfare the way a Greek taverna in the USA would serve a flaming saganaki, or a Mexican restaurant would serve carne asada on a sizzling hot plate. The eggplant arrives at the table and then is cut up into bite-sized portions by the waiter. We ordered another one after the first and we might have ordered a third if there were not so many other good things on the menu. The island fava (yellow split-peas) were delicious as were the sun-dried tomatoes, the local hard cheese, excellent tomato keftedes, and a cheese-filled pita. For main course I had the lamb kleftiko which is lamb and potatoes cooked in wax paper, very tender and delicious. Not something that I would normally order, but also not something I see on menus very often. My daughter had grilled liver. Don't ask me why. She was not happy with it but that had more to do with her than the liver which tasted, well, like grilled liver always tastes when that mood comes over you to order it and then you wonder why you would travel all the way to Santorini to eat liver. Anyway we were so filled up on appetisers that it hardly mattered. Her boyfriend ordered mousaka but he had just arrived from the USA. They also serve their own bottled wine which I liked a lot. I don't think I had a bad glass of wine my whole time in Santorini. It was a Wednesday night so not much was happening besides the Spain-Portugal Euro12 football semifinal. But on weekends Niki's son plays live Greek music so if you want to come reservations are advisable ( 22860 25146). All in all if you want to taste Santorini food the way it should taste this is a good place to eat, despite the setting. You can walk here from Fira in ten minutes but you take your life in your hands. And if you want something grilled order the paidaikia (lamb-chops) or the brizoles (steaks) or anything but liver unless you feel you have a vitamin B deficiency. Liver is not food. It is medicine. Unless you happen to love liver of course. (Please don't e-mail me about liver)
Penelope's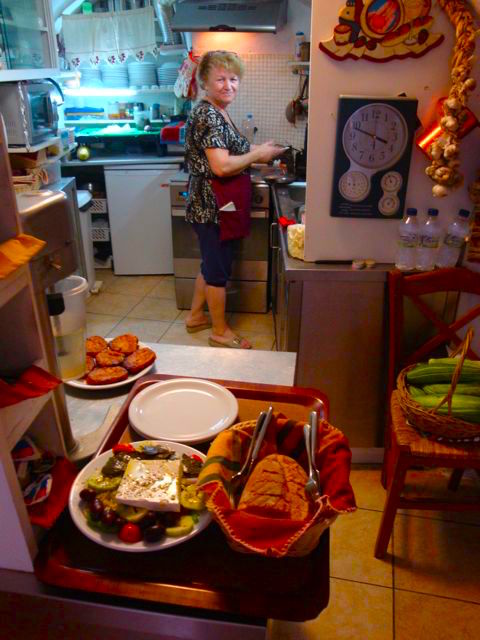 To this point we had eaten plenty of good food but had not yet found the restaurant that knocked us out, the small un-touristy place that would earn me praise from travelers who would not have discovered it other wise. Until we went to Pirgos, an inland village with a small square and a labyrinth of houses topped by a kastro. Most people opt for the taverna or the ouzeri in the square but we were intrigued by the sign that said To Penelope's. We found Penelope in a small hole-in-the-wall restaurant next to a church and realized that this has to be what we were looking for. Penelope is not from Santorini. She is from Arta, a town on the mainland but moved here with her husband who is from the village. We were the only customers so we had her full attention and she made us the best tomato keftdes in the world. Yes. IN THE WORLD. Also a beautiful Greek salad with Santorini tomatoes, feta and caper leaves, and delicious home-made dolmades (stuffed grape leaves), all served with bread from the local bakery that was made with wheat and corn flower. My only regret was that we did not sample more of her dishes because that night we were planning to go to Metaxi Mas which was rumoured to be the greatest restaurant in the history of Santorini, and we did not want to arrive there well fed. Anyway I am sure to get flak from some of the x-pat locals for letting the cat out of the bag but if you want a simple, delicious, meal of Santorini specialties in a quiet setting go to Pirgos and wander the back streets until you stumble upon Penelope's. While you are there go to the traditional food shop in the square and check it out. He has a great selection of Santorini wines, ouzo, tsipuro, canned fruits, and even seeds for the tomatoes, fava and squash.
Metaxi Mas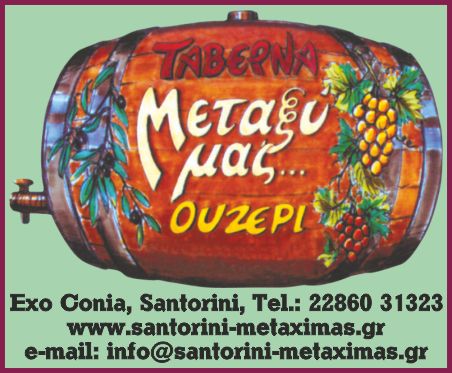 Metaxi Mas had been recommended by just about everyone we came into contact with in our travels around the island. We had called the night before to make a reservation but they were full which is why we ended up at Kyria Niki's. The next night my friends Dimitri and Patricia from Ocean Wave Tours had invited us to dinner and said they had made reservations at Metaxi Mas and then later that day when we went to visit Antonis at Artspace winery he told us he was going there as well. Antonis had discovered on Facebook that I was in Santorini and through clever detective work had tracked us down at the Volcano View Villas and sent us ten bottles of wine from his winery in thanks for the review I had written ten years ago which was a wonderful and generous gift except that we had come to Santorini carrying nothing but a small backpack which meant that we had to either drink all the wine before we left, or try to find a hard suitcase to transport it back to Athens. After hours of searching we managed to find a bright red suitcase which would fit most of the wine. We figured we could sit on our terrace at the hotel and drink at least one bottle before dinner which we did. So when Dimitris and Patricia showed up at the hotel in their Puegeot convertible we were ready to party.
We arrived at Metaxi Mas, which you get to by walking through the yards of a big church, to find Antonis waiting for us at a big table where we were joined by several friends, a bottle of tsipuro and many bottles of Artspace wine. Andrea barely made it through the appetisers which included pan fried crusted feta cheese with honey, saligaria (Cretan style snails), Santorini fava, a pomegranate salad with fresh spinach and lettuce, walnuts, dill, parmesan and who knows what else. By the time the main courses came Andrea was nodding out and Patricia took her home. Her place was taken by the village priest and we continued to eat and drink through the night. I believe I had Beef Filet with Vinsanto Wine and Mushroom Sauce. I can't remember exactly. I just remember that it was extraordinarily delicious as was everything that my friends were putting in front of me to eat. Patricia came back in time for desert and to drive us home. They had an early morning tour and I had a flight to Athens and then a 12 hour ferry trip to Lesvos. But through the haze of my memories of that night I can tell you that Metaxi Mas is one restaurant that you should go to. You will need a reservation which you can do by phone or e-mail through their website. By the way it is not a strictly Santorini restaurant. It is a Santorini-Cretan restaurant with a bit of Italian thrown in. Most likely this will be the best meal of the trip so maybe go here first so you have time to go again. Metaxi Mas is in the village of Exo Gonia between Pyrgos, Kamari and Fira. If you don't have a car take a taxi. The restaurant can call one for you when it is time to go home. I really had to search to find a photo for this restaurant. I must have taken fifty that night and every one was out of focus for some reason. This is the best one and it is of Antonis Argiros of Artspace Winery. By the way Metaxi Mas is the only restaurant in Santorini that you can get his wine.
Restaurant Favorites of my Santorini Friends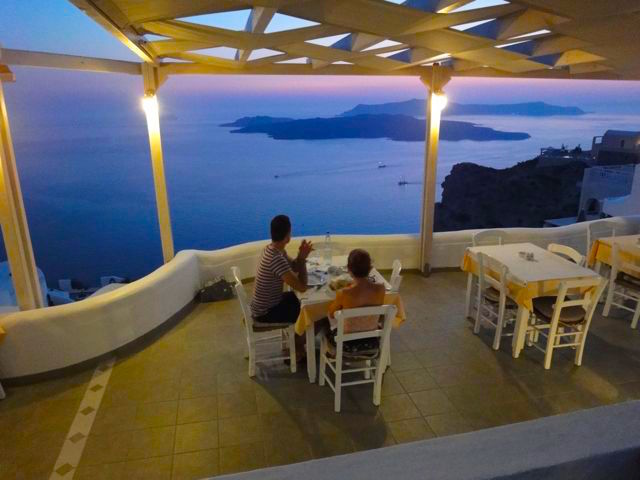 If you want to know the best restaurants who better to ask than Captain Ted Stathis, a Greek-American living on the island who takes people out in his catamaran for day trips and overnights, serving them gourmet meals cooked by he and his wife.
"When we go out we usually like to go out for dinner. Fish is my favorite as well as Dina's and the place where we like to have it is in Ammoudi. Every visitor that we meet really enjoys the place because it is an exceptional place to dine regardless of the fact that it has become a popular site. Another very good restaurant that we like is Ambrosia Nector in Oia. The owner is Tony Mosiman an excellent host and a great guy. He serves a Greek Infused menu that has unique flavors. Also Anogi, in Imerovigli is great. It is next to the basketball courts. The food variety on the island is getting so much better than 15 years ago, it makes living here a lot more satisfying."
George Grafakos, owner of the beautiful Dreams Luxury Suites recommends:
Saltsa Restaurant: It is located in Firostefani on the right side of the main road going from Fira to Imerovigli about 800 meters after the main square of Fira. In my opinion it is the best restaurant in the island and the cook/owner is supposed to be one of the best 10 chefs in Greece. The food is fabulous, made of local products cooked and served in a unique way. The prices are very good for the quality of the food and here are some very special tips:
1) Ask for starter the white Santorinian eggplants, the lavraki fish, or the stuffed onions.
2) For main course ask for "kotsi" if you like meat which is really special and it is not included in the menu list. Its only for the few friends who know of its existence.
3) Finally it is a must to try the ice cream "loukoumi" with real sugared rose petals. It is Divine.

The second restaurant is "Nyhteri" in Kamari on the beachfront road. There are many many restaurants in this road but in my opinion they are all below average or just tourist traps. Nyhteri has also Santorinian food, it is more simple and cheap than "Saltsa" but the quality is excellent and I can guarantee that with all my hundreds guests that I have send there from my other hotel in Kamari "Acqua Vatos". Not even one complain in three seasons.

Hey Matt,
Here's a possible addition to restaurants in Santorini (& I know you have a lot of them listed). We had a great meal in October at Salt & Pepper in Fira. It's on the main driving street (Eikostis Pemptis Martiou) & just short walk (3-5 mins) north of the square. It's on the west side of the street & is quite small. Owned by the chef & his wife, who is also the maitre d' & waitress, it seats about 20. We were lucky to walk in early & get a table without a reservation, but saw many folks get turned away. So, if you post it, advise to make a reservation a day or two in advance. The chef creates different meals every night. Ours, although not large, was just 45€, included a salad, two entrees & wine, all delicious (we spent a year in Greece, so I don't say this lightly!). Quite a bargain for Santorini & its a white tablecloth kind of place. Much attention paid to us & all patrons by the owners/staff.
Hope you are well & doing your best to enjoy Carrboro!
Warm regards,
Betty Haskin (Chapel Hill, NC)
These are from Dimitris from Ocean Wave Tours
Fish Tavernas
"Skaramagas" Traditional Family Tavern, fresh fish, fava, and the best tomato-fritters on the island, Monolithos opposite the Airport right next to the old tomato factory, nice sandy beach and shallow water with umbrellas and cabins to get changed.
"Dolphins" Captain Giorgos the father, his sons Kostas and Fanis supply their Tavern daily with fresh fish, Akrotiri a few meters before the parking for the Red Beach.
Tavernas
"Mamas" The best breakfast on the island, omelets with spinach and feta cheese!!! In Fira, right next to the Taxi Station on the main road.
"Kyra Niki's" Local specialties lamb and pork on charcoal various salads with Santorini products, Karterados, 10 min walk from Fira on the main road to the Airport.
"Almyra" Large menue for all the tastes and reasonable prices, on the promenade of Kamari.
Mezedopolia
"Ouzeri" Greek Kitchen, Mezedes (Greek word for starters) and dishes from all over the country, Fira Shopping center Fabrika.
"Metaxi Mas" Mezedes for Ouzo, Raki from Crete, and Wine, Exo Gonia, opposite the large Byzantine church with the clay tiles roof.
Restaurants
"Marmita" Greek kitchen, nouvelle cuisine, Chrisanthos, chef and owner he is not just cooking he is creating!! In the village center of Megalochori, highly recommended.
"Nychteri" Gourmet dishes and more, Kamari on the promenade close to the parking place.
"Ochre" The best sunset view with hundreds wines from all over the world, Oia at the very end of the island.
Be sure to visit Ginger in Firostefani which some say is the best sushi restaurant in Greece. Some have said it is the best sushi restaurant anywhere!
Restaurants at the Beaches
Monolithos near the Airport. It is small bay shallow water, fine sand some trees you can lie under there are also umbrellas and benches to hire and a small shop to get cold drinks and ice cream or a snack.
Perivolos is the famous Black Sandy Beach and it ends down South in Perrisa the second biggest resort after Kamari.Here are hundreds of Cafes, Restaurants, mini markets, and a few Beach Bars where through the day are full with youngsters drinking shots, (sfinakia) dancing, sunbathing, playing Beach Volley, swimming, or do water sports like Jet ski Parachuting, Water ski, and maybe Wind Surfing (what I do but not in the summer!!)
Vourvoulos. Near to Fira.For people who do not like the crowd Vourvoulos it is very quiet only a Tavern but I would not suggest. Maybe get only a drink or salad. (I live in Vourvoulos in the old Village.)
Pori On the way to Oia by the coast after Vourvoulos. Another quiet small beach away from the crowds with only one Tavern I used to go there but the last times we eat there was not that good, but the wine is home made and very strong if they do not add water!! They usually do.
Captain Dimitris . It is on the road to the light house before the Village of Akrotiri turn right3 Km. I start going to this place this winter it is like Scaramagas the family runs the place fresh fish,varius mezedes (starters) and home made wine rose or white that you can drink a barrel!!
Hi Matt. Hope your readers enjoy these places. Remember to tell them that if they need someone to show them around the island to visit my website