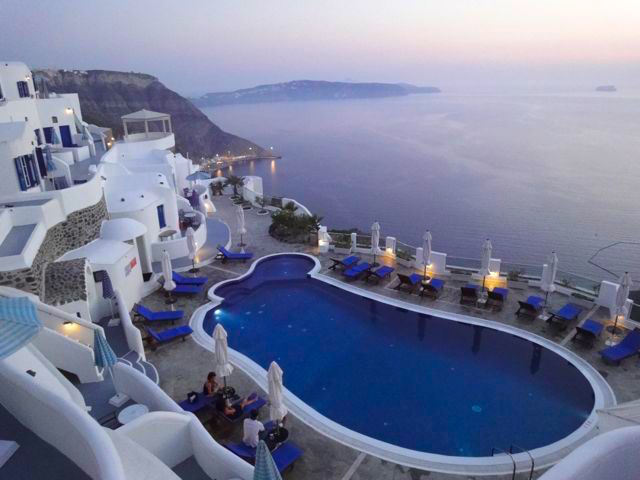 Many people e-mail me in disbelief at the cost of some of the caldera view hotels on Santorini, ready to cancel their trips because they think the island is unaffordable. It's nonsense. The most popular hotels on Santorini, the ones most highly rated on Tripadvisor, the ones that people feel they have to stay at, are no better than less expensive hotels which don't have the same presence on Tripadvisor. The hotels popularity on that site drive up the rates and if you want to pay a thousand euros or more for the same view that someone else is paying two hundred euros for than be my guest. As long as you know the price does not reflect the quality of the hotel but its popularity on Tripadvisor. For my money the Volcano View Villas Hotel offers an incredible view of the caldera, very nice rooms and excellent service, a couple swimming pools, a bar and restaurant and because it is outside of Thira and not in the middle of all the hubbub it offers something else. Peace. Some might say they would rather be in town, and I understand. But on our first night we took a taxi to Imerovigli and it cost all of 7 euros. We could have taken the free hotel shuttle that goes to Fira at ten o'clock or walked on the sidewalk that goes there. But if you can't afford a taxi then why are you even thinking about caldera view. Of course we decided to rent a car the next day because if you really want to see the island you need one, so the location of the hotel did not matter, in fact it was better because we did not have to worry about parking.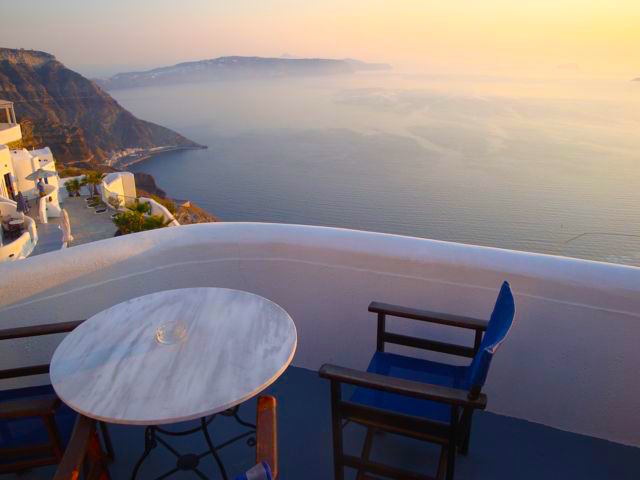 So from my experience I would say that the Volcano View Villas Hotel is the place to stay if you want caldera view but don't want to go broke paying for it. I think you will be pretty impressed with the hotel, maybe stunned would be a better word. When we sent my daughter there a day ahead of us her SMS upon arrival was "OMG!" I think that was one of the more precise one-word reviews I have ever read because that is what I said when I arrived as well. Many of the guests sat on their balconies with a bottle of wine, watched the sunset, and then had a quiet dinner at the hotel restaurant. I understand. If you are looking at something profoundly beautiful do you want to be surrounded by a bunch of tourists talking about their golf game or what they bought today? I had the foresight to bring my binoculars and every day I was able to watch the arrival of several giant cruise ships which anchored below and ferried passengers to the shore. Plus the ferry port is below as well and I could watch the boats sail in and out at all hours of the day and night. For me this is entertainment.
So if you have money to burn go stay at Katikies or Andronis Luxury Suites. But I would stay at the Hotel Volcano View Villas and take the money I saved and ship home crates of Santorini wine to my friends. By the way all the above photos were taken from my balcony.
If you are not convinced and the money is just dead weight in your pocket and you want to spend it then I suggest the Volcano View VIP Villas are five stylish, individually designed luxury villas, each with its private swimming pool and a balcony with a breath-taking view of the caldera.