Getting to and from Kefalonia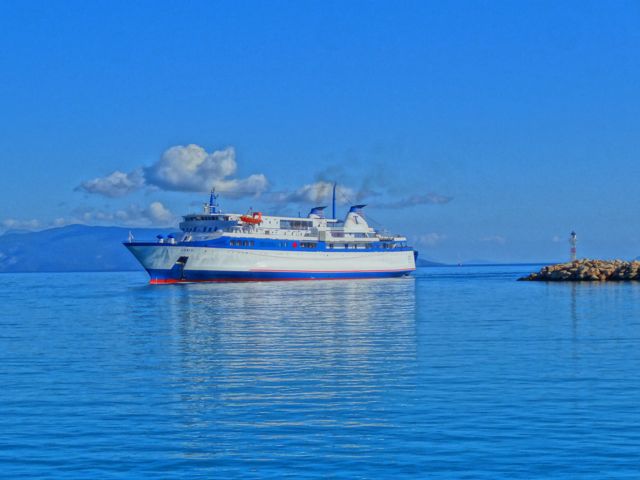 There are numerous ferries every day from the town of Kylini in the western Peloponessos about a 45 minute drive from Patras. You can find ferry schedules on Dolphin Hellas' ferry ticket page or on Openseas.gr. Kyllini is a not very attractive fishing port, agricultural village with a handful of restaurants and fast food joints, a few hotels, and a town beach and if you miss the last ferry there are worse places to be stuck. Unless of course you can't find a room and find yourself battling misquitos all night waiting for the morning ferry. For this reason I suggest giving yourself more than the 4 hours it takes to drive from Athens and aim for an earlier boat.
The airport at Argostoli has daily flights from Athens as well as charters from several European cities. For flights from Athens check the website of Aegean Airways. Most of the charters are for package tours so you may not be able to just get a seat on a plane unless they are having trouble filling it. There are flights to Kefalonia from London, Newcastle, Manchester, Birmingham, Milan, Pisa, Rome, Prague, Vienna and Innsbruck among other places. Easyjet flies there as well.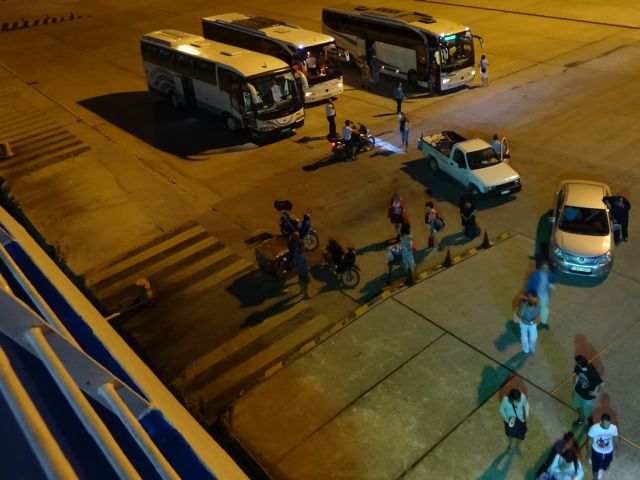 There is also a bus from the inconveniently located Bus Terminal A in Athens. You should probably take a taxi from your hotel and get there at least a half hour early. The bus takes you to the ferry and you get off and board with the other passengers. When you get to Kefalonia you get back on the bus to Argostoli, Sami, Poros, Lixouri or wherever it is going.
You can also take a taxi to Kylini which is expensive unless you share the cost with friends. For rates contact George the Famous Taxi Driver.
Travelers who book a package with a Greek Travel Agency don't have to worry since transportation to and from Kefalonia is included.
There are also ferries to Sami from Ithaki and to Fitscardo from Lefkada. There may or may not be a summer ferry from Zakynthos to Kefalonia but it does not appear on the ferry schedules. Your best bet may be to connect through Kyllini.
Where to Stay
Kefalonia is a big island. But not so big that you can't use one town as a base and explore the whole island. It is just a matter of choosing which town to stay at. If you want to be able to walk to a really nice beach then Lassi or Skala are your best bet. If you like towns and don't mind driving to the beach then Argostoli, Lixouri, Sami or Fiscardo are fine. If you want nice beach and town then probably Poros. If you are traveling low season there is no reason not to split your time between several places the way we did. If you choose hotels with free wireless you can even book as you go, though in July and August there are fewer and fewer choices. You can find hotels all over the island with maps, photos, and booking information along with different search options on Booking.com's Kefalonia Page or you can book with Fantasy Travel which is recommended especially if you plan to do more than one island or combine Kefalonia with Athens and the Greek mainland. You can also find homes, villas and apartments on Clickstay's Kefalonia Page.
Getting Around Kefalonia
Kefalonia has a good bus system and if you stay in a hub like Argostoli or Lixouri which both have terminals, you can pretty much see the entire island. The terminal in Argostoli is in the south part of town right by the Drapano Bridge. In Lixouri it is right by the ferry dock. You can find bus schedules by going to the Kefalonia KTEL website which is thankfully in English.
But you are better off renting a car. There are numerous car rental agencies in the towns if you are flying to Kefalonia or you can book in advance through Fantasy Rent-a-Car. Your best option is to rent a car in Athens and drive it to Kefalonia and back which you can do through Swift Rent-a-Car who will actually drive you out of the city to the National Road. There are beautiful beaches and seaside tavernas all along the route to Patras and you can break up the trip.